print to pdf
FOOD INDUSTRY
At Fannteer, we recognize the importance of supplying rubber products for food processing applications that must fully comply with product regulatory guidelines. Rubber products that we can supply include the following
Food grade gaskets and seals, including FDA-conforming materials
Sanitary gaskets and seals, including NSF 61 and NSF 51 approved materials
Dairy Seals, conforming 3A Class III with different colour materials.
Appliance seals、gasket and tubing with exclusive 3A Sanitary 18-03, Class I certified material.
PHARMACEUTICAL INDUSTRY
Working in this environment requires attention not only to the stringent quality control of the sealing materials, production processing and packaging, but also to the complexity of the operations procedure.
CHEMICAL INDUSTRY
In the chemical industry, sealing soluation are in demand that various checmials resist with acid or corrosive gases for long periods of time. Each of these must meet the highest standards to enable customers to reach the levels for purity, safety, and performance that is required in chemical processing.
RUBBER MATERIALS FOR PROCESSING APPLICATION THAT FANNTEER SUPPLIES INCLUDE THE FOLLOWING
SILICONE (VMQ)
Silicone rubbers have outstanding characteristics that make it a preferred material for processing industry. The temperature resilience of silicone can be used in a wide range, make it especially attractive for use in food、pharmacetical and chemical environments.
NBR
Nitrile rubber is a synthetic rubber that provides excellent resistance to petroleum-based oils as well as mineral and vegetable oil. Nitrile rubber is a great material choice for processing applications that require abrasion resistance and metal adhesion.
HNBR
HNBRs have better oil and chemical resistance than nitrile rubbers and can also withstand much higher temperatures. Like NBR, this type of elastomer has excellent resistance to oils and fuels but it also has excellent resistance to many chemicals、 heat and ozone.
EPDM
Ethylene Propylene Rubber possesses excellent resistance to ozone, sunlight and weathering, and has very good flexibility at low temperature, good chemical resistance. EPDM is also one of the most frequently used material in process industry due to the great resistance of water-based system.
FLUOROCARBON (FKM, VITON, SOLVAY)
Fluorocarbon is a well- known rubber with high performance rubber and a highly composed of fluorinated hydrocarbons. It shows excellent resistance to high temperature (-25C to +200C)、fuel oil、ozone、media、aging etc and allow for use in the processing application.
SEALING DESIGN FOR THE PROCESS INDUSTRY
O-RING
Fannteer offers O-rings in a wide range of sizes such as AS-568 standard、millimetric and non-standard sizes that are manufactured in multiple properties. Since the modern Processing industry is vast and multifaceted, Fannteer has also developed a variety of materials and products that can be universally used including food industries.
METAL DETECTABLE O-RING
Metal Detectable O-Rings and Seals are widely used in food and pharmaceutical industries. When a piece of rubber breaks off from a seal on a moving part, it can be easily detected by most conventional metal detection equipment for immediate contamination alert. Unlike other industries where physical property or temperature resistance is the key selection, food and pharmaceutical applications must ensure product safety and compliance with FDA regulations. In recent years, Fannteer has provided a range of metal detectable O-Rings and Seals that have been proven the most cost effective solution for locating rubber fragments of seals and gaskets in the process stream.
MOLDED PARTS
As a manufacturer of custom molded rubber parts, Fannteer provides the seals with exceptional performance that are perfectly met per customer specification. Because of this, we also offer higher industry standards of parts, such as butterfuly valve seals which is a fundamental element for preventing potential leakage and are mostly used in the food and beverage、brewing and bottling、pharmaceutical and chemical processing industry.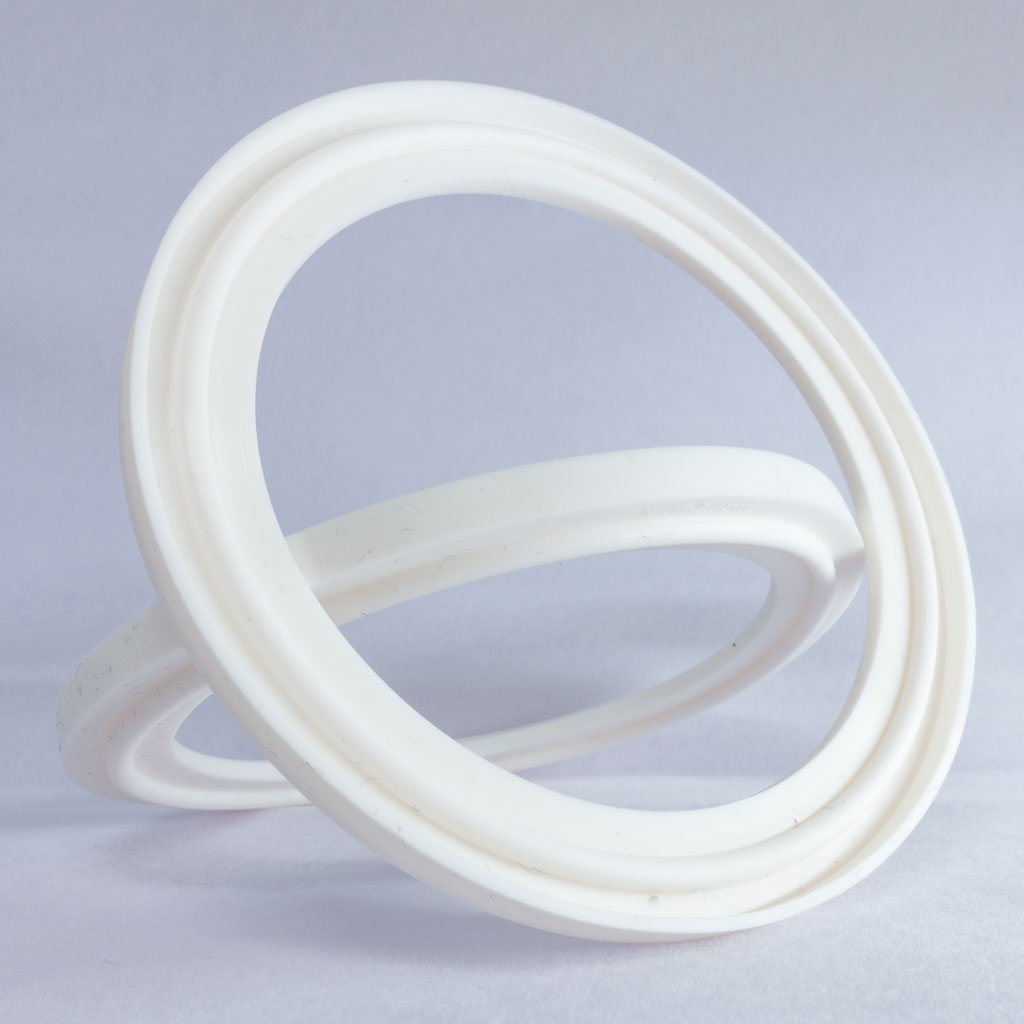 TRI-CLAMP SEALS AND GASKET
Tri-Clamp Seals are designed to use in processing pipeline connection. The products are mainly manufactured in EPDM、FKM、BUNA and SILICONE material. At Fannteer, these four category of compounds comply with FDA 21 CFR, and even some formulations have been accepted 3A CLASS III standard.
These three series of Tri-Clamp gasket are also available, free feel to contact or send us a quote.